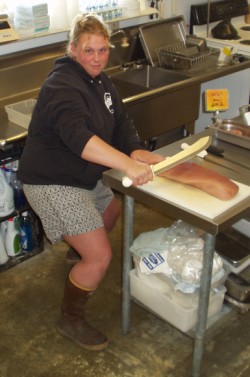 BOOTERS is the creation of visionary and president of LANDHO LLC Korry Engvall. Korry got the idea for BOOTERS after eating lunch at HOOTERS. He thought why not offer the freshest seafood available prepared and served by women wearing rubber boots. He immediately e-mailed the manufacturers of xtratuf boots (as they are the local favorites) and asked for their endorsement. Well they were more than happy to have their product featured as BOOTERS official footwear. BOOTERS is the perfect venue to be located at Oyster Oasis, one of several four star restaurants which will make living at Oyster Oasis no mirage.
Nicole is one of the youngest BOOTERS girls. She was raised around the commercial fishing industry helping her parents who own a tuna boat. In fact her parents are known as Mike and Tina Tuna. So she is right at home in her size 6 xtratufs. Her specialties are, cleaning tuna and having a vast knowledge of seafood and how to process, store and prepare it. She uses this knowledge everyday at BOOTERS where she serves the freshest of seafood.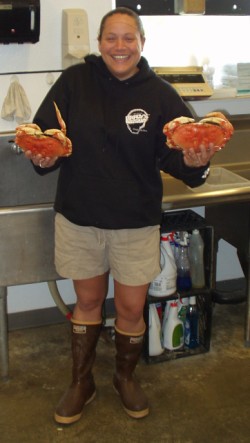 Mara, or Montana Mara as she is often called, hails from western Montana. Being raised on a farm she is not afraid to put on her xtratufs and shuck some oysters. Cooking your Dungeness crab to order is her specialty. She will grab the crab of your choice from the BOOTERS live crab tank and plunge it into boiling water right before your eyes.
To learn more about Booter Girls visit the Oyster Oasis website at http://www.booters.oysteroasis.com