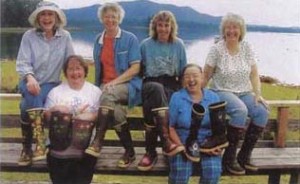 They get a kick out of crafts
By Ione Lynn – Country Magazine
Fancy Footware: Field Editor Ione Lynn (third from the left) and her Alaskan friends all wear XTRATUF boots. They painted them so they could tell them apart—and had a ball.
We live in southeast Alaska, where there are many islands that border the mainland. Since there are no roads connecting the islands, we travel by boat to visit our neighbors.
Both men and women wear high rubber boots on our boats, and when we arrive at a neighbor's door for a social gathering, off come the boots, and we socialize in our stocking feet. Can you imagine the confusion when a houseful of people leave at the end of the day, each grabbing a pair of boots scattered around the porch? It's not unusual to arrive home with someone else's boots, or even an odd pair.
Three years ago at a potluck at my home, we women grew tired of hearing the men talk about generators or hauling building supplies across the channel, which are so much a part of our island life. So my friend Arlene suggested we start a craft day, and the Dun-Keen Channel Crafty Ladies Society was born.
The first year Arlene taught us to make beaded bracelets, and the following year we made Christmas cards with designs embroidered on paper. When it was time to choose this year's project, friend Sandy said, "Paint our boots!" What a fantastic idea, for now we would finally have a way to identify our own boots.
For 4 hours, we painted daisies, irises, nasturtiums and other designs on our boots. We raised the roof with laughter, talked about our flowers, birthday parties, clothes and quilting.
The boots are beautiful, the day was a success, and there was not one mention of generators. As for next year's project, we plan to paint the men's boots!