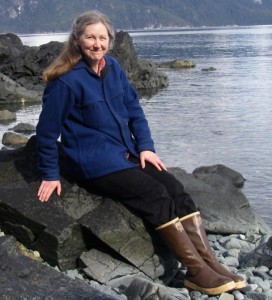 The XTRATUF boot…is a two-tone red-brown rubber boot…perhaps the symbol of Southeast Alaska. So much so that their common nickname is "______________ tennis shoes," with the name of your favorite Southeast Alaska community filling in the blank.
Apparently the manufacturer, Norcross Safety Products, makes them almost exclusively for Alaska. They say they sell some in Washington, Oregon, and a few places in California, but Alaskans buy at least a third of their yearly output. We seem to be this particular product's niche market. And we don't just use them, we love and revere them! They are accepted in virtually any social setting. People have worn them with evening gowns and tuxedos. The company made a special high-heeled pair for a Miss USA contestant from Alaska! People paint them, wear them plain, with pant cuffs tucked in or pulled over in any and every situation. A lot of people wear them in their wedding ceremony, especially the ones held outside. It's a bit of a mania.
I myself don't wear Xtratufs anymore, which for many Alaskans calls my true loyalties into question. I wore them when I was young, and found the soles too thin and flat, without a heel, to be comfortable when walking. The boot's upper is also too thin, so that it doesn't take long to wear holes in stress points. Also, the form-fitting upper is potentially dangerous. In the maritime communities of Alaska we are trained as children that if we fall in deep water, we should immediately kick off our boots so they don't fill with water and drag us under. Many boots designed for fishing and deck work have a rigid upper that bows away from the calf, partly so that they can be kicked off quickly. Water pressure can press the form-fitting Xtratuf upper against your calf, so that, even filled with water, you may have to fight heavy suction to free your foot from the boot. Finally, Xtratufs are expensive. The formerly-high price of $65 a pair is considered a bargain these days. Instead, I favor the Northerner, a less expensive, in my opinion better designed rubber boot.
I concede I'm in the minority here, and that the paragraph above is likely to be considered heresy in my part of the country. I also concede that, when it came time to tell you the name of the boot I prefer, I had to go over and look to see what it was. I never would have had to do that if they were Xtratufs!
A friend related his experience at the grand opening of a new store in Juneau, Alaska. For the opening, the store offered excellent sale prices on limited quantities of items, first come, first served. My friend had two items in mind, both of which would be 50% off.
He arrived at the store 30 minutes before it opened, with, he admits, lust in his heart for the two tools. He thought he'd gone plenty early, but the line outside the door was already halfway across the parking lot when he arrived! He resigned himself to the possibility of being too late for his planned purchases, but he entered the line and filed in with the other customers when the store opened.
Eventually he got both the tools he wanted. He was happy to get what he came for, but was very puzzled—what had everyone else come to the sale for? Then he noticed a large crowd gathered to his right. People had clustered around a vast stack of shoe boxes, topped by a sign reading: "Xtratufs 50% off." In the circle of people closest to the stack, people were down on their hands and knees. He heard a lot of shouting, and caught phrases like, "No, no—eight and a half, eight and a half!" He said it resembled a rugby scrum, "only (somewhat) more polite."
My friend told me, "From this I learned that if you want to start a riot in Juneau, put up a sign: "XTRATUFS ONE HALF OFF" and get out of the way. Better have a lot of boots."
[This is an edited version of the article, the full article can be found here: http://akzeigers.com/blog/?p=41]