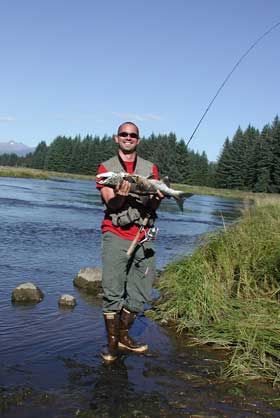 I have been backpacking and hiking for over 30 years, during that time I have used a variety of waterproof hiking boots to keep my feet warm and dry. As you know, all hiking boots are not created equal. I have used my fair share of boots that leave your feet with blisters, or start leaking water after the first puddle. I have also had my share of boots that keep you dry, and without blisters, but do not stand up to the rigors of all the things you do when hiking.
My solution for hiking, backpacking and camping is now Xtratuf's line of waterproof neoprene boots. I prefer the Insulated Boots for hiking and backpacking, they allow me the versatility for all conditions I encounter on the trail. If I need to do a stream crossing, I can flip up the sides of the 16″ Boots and they comfortably handle most stream crossings. Then when I am around camp, or in the high alpine tundra I can roll the sides down to allow extra breath ability and air flow.
My favorite trip in Xtratuf boots was in Alaska when I hiked the Bartlet River in Glacier Bay National Park. We were headed on a two mile hike up river to spend the day fishing the river for Salmon. So my boots needed to be versatile enough to handle the rough terrain while hiking up the river, then once we got to the fishing holes I needed to be able to wade in and out of the water. Other people wore hiking boots and carried waders for once we got to the fishing hole. As you can imagine, carrying a full day of supplies, fishing gear, and waders was a lot to handle. I was able to wear my boots, along with a backpack full of supplies. I reached the fishing hole first, and was able to wear my waterproof hiking boots as I fished the river.
Thanks Xtratuf for making such a versatile hiking boot!