Xtratuf 6″ Boots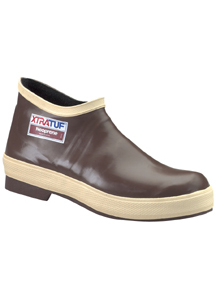 Features of 6" Xtratuf Boots
Comfort combined with great protection in your footwear choice is a must in a number of different settings. From a tough work environment to your weekend hobbies, finding that perfect mixture can be difficult. XtraTuf, though, has the answer.
100% waterproof
Hand-layered providing flexibility, and a comfort fit
Triple-dipped boot shells for watertight protection
Chevron outer sole and heel
Cushioned insoles with precise arch support
Available Sizes: Men's 3 through 14
Boots Weight: 3.5lbs per pair
Shipping Weight: 4lbs
Manufactured by: Servus XtraTuf® Boots
If you're looking for a real shield against what your feet face every single day, you can't do better than the
XtraTuf Neoprene 6" work boot
. It's comfort when you need it as well as the help your feet need to stay safe time after time.
Unlike any other work boot on the market today, XtraTuf offers you seamless, watertight protection with the comfort of your favorite pair of shoes.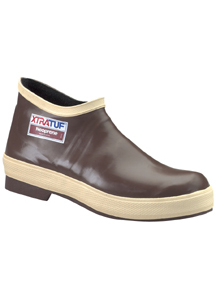 Description of 6" Xtratuf Boots
The 6" Xtratuf Neoprene boot offers you the flexibility you need and adds in the level of comfort you need along with excellent protection. Whether you're concerned about corrosive, acidic, or contaminated materials, XtraTuf's 6" work boot can handle all of it, and you may feel as if you never left your favorite pair of shoes when you slip them on.
The XtraTuf Difference While many work boots offer you some level of protection, few go this far to keep your feet safe. Only XtraTuf can give you this kind of security in your footwear. Completely seamless, you get the waterproof comfort you need in almost any environment.
The real secret to XtraTuf lies in the construction itself. Using a patented hand-layered technique, each boot is flexible enough to allow you an excellent range of movement, yet completely seamless and waterproof so ensuring your feet won't be exposed to anything is an absolute guaranteed. Even at the most critical stress points, these boots give you comfort and a seal you need. Each shell is triple dipped so you get the highest layer of safety with every step. It's this triple coating that makes these boots very resistant and creates vulcanizing seals, even when you're dealing with acids or other contaminants. With a Chevron outsole and heel, you simply can't buy a better level of security than XtraTuf's boots.
As important as that protection is, though, your comfort is just as important, and the 6" neoprene work boot takes that into account. Each pair has built-in cushion insoles with arch supports that helps to fight the tired, aching feeling you may have at the end of the shift. The fabric linings help to wick moisture away from your feet, and they're easy to slide on. The supportive heel counters included can help to give you the form-fit you need to help keep your heel from slipping during any activity.
This line of boots comes in men's whole sizes from 3 – 14. You get the level of quality you expect with every single order.
Xtratuf Boots are Built to Withstand… Anything!
Still not sure Xtratuf is the right choice for you? These boots were made to handle even the toughest spots including
Poultry processing facilities
Meat processing facilities
Slaughterhouses
Agra-Chemical plants
Petrochemical plants
Dairy and food processing factories
Waste disposal facilities
Sanitation treatment plants
Extreme fishing trips
Finding the right pair of boots can be a challenge, but with these boots you are always making the right choice!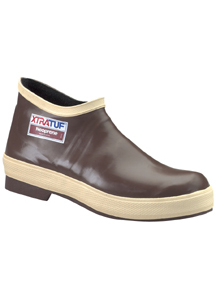 Where to Purchase 6" Xtratuf Boots
Xtratuf boots are available through many fine online retailers.
| Company | Price | Buy Now! |
| --- | --- | --- |
| | $85.37 | |
| | $89.99 | |
| | $104.99 | |
| | $104.99 | |