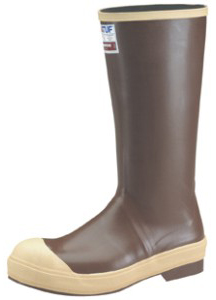 The ultimate in boots meant for the great outdoors, Xtratuf waterproof work boots have proven to be "extra tough" in even the most trying situations. Xtratuf boots are triple dipped in liquid neoprene, which lends them the quality of being seamless and absolutely watertight. Alaskan fishermen are known to swear by these American-made neoprene boots for their pliability and all day comfort.
Most fishermen would confess Xtratuf work boots are a way of life and not just mere footwear. The popularity of these neoprene boots has reached so far and wide that it landed them a spot on the feet of the crew on the popular Discovery Channel show Deadliest Catch. Xtratuf boots, as used on the TV show Deadliest Catch, not only are they 100% waterproof, they have a special chevron tread on the sole that gives them excellent grip even on the most slippery surfaces.
Xtratuf waterproof work boots have been designed to provide all-day comfort, which is a must when venturing out for fishing or farming. The cushioned insoles and smooth fabric lining can be credited for their long-lasting comfort. With the added advantage of being resistant to contact with acids, corrosives and contaminants, these neoprene boots can survive almost any working conditions.
Xtratuf Boots are available in a variety of sizes (6", 12" and 16") with a neoprene copper tan shell. While the non-insulated boots keep your feet dry at all times, the insulated boots go a step further and keep your feet warm. The Xtratuf boot safety version is especially designed to provide your feet extra safety even in extreme working conditions.