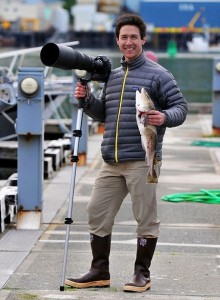 R. J. Kern is both a fearless photographer as well as a new fan of Xtratuf boots. R.J. has an annual tradition to "trash the dress" which amounts to taking a bride and her wedding dress someplace that has never typically seen either, and taking some amazing photographs. You can see more about this years trash the dress in an Alaskan Gold Mine!
Here is what R.J. had to say about his experience with Xtratuf Boots:
The Boots…and why he used them!

About once a year I embark on a special personal project I like to call "Trash the Dress." It's not about destruction, but creation. No disrespect towards irreverence to the wedding dress… but honestly, a bride will never wear her dress, nor will her daughter. So why not make it special when she does:) Go big, or go home. We went BIG.
A dear friend of mine and stunning wildlife photographer, Brendan Smith, came along to help with gear logistics. He recommended a pair of Xtratufs, so bought a pair while on Kodiak Island since we'd be getting dirty and wet. Never thought I'd be wading through cold mountain streams with all my lighting gear on me. I felt comfy, warm, and secure in knowing I wasn't going to easily slip in the rocks.
Stacy reminds me the importance of living life to the fullest. Faced a rare disease, she's battled death more times than many can would care to dream a nightmare of. Celebrating life, we decided to a no-holes barred experience in her native Alaska environment full of gold mines. She's a gold mine herself… filled with enthusiasm, bravery, and big smiles. Heart of gold, in flesh. I wore the boots up as we headed up to Hatcher Pass to begin our bridal portrait session. I knew I had the right boots for the job. showcasing her beauty like she's never seen before. One of the talents of a good wedding photographer is to pull out the inner-most beauty (despite vulnerabilities), and not only make their clients look beautiful… but FEEL beautiful. But I also have to feel comfy, and cold and damp in June in Alaska is an easy thing to come by.
One of my favorite parts of this shoot was any number of these images could have been taken 50 years ago. And I'd like to think in 50 years these images will still be 'cool.' Here's a link to view the images and see the rest of the story: http://www.kern-photo.com/
Please let me know once it goes live and I will share with my buddies.
Kind Regards,
R. J.
It is the real life stories of why people use Xtratuf boots and the absolutely odd places they use them that keep us going!
If you have a dress, and a need to trash it then leave a comment, maybe R.J. will pick you next year!
Below are a few of the "Trash the Dress" photos (click to image to enlarge) you can see more on R.J.'s website at http://www.kern-photo.com