Dressing like an Alaskan is not an easy thing to do, as I learned when I went to college in Alaska, as a transfer from Bend, Oregon, from a dry climate to a wet climate. Before I made the trip I bought some standard rubber boots since I knew it would be wet.
A few days of walking the streets and trails of Alaska told me that I had the wrong boots. Not only were the boots clunky and making the back of my heels sore, but everyone was looking at my boots when I passed by. They knew I was from out of town by my boots.
So, I started looking at what they were wearing and noticed they all wore the same boots, a kind of tight, flexible boot that was quiet when they walked. I thought it was strange that everyone wore the same boots, but decided to find out what they were. I decided to ask the next person I met on the sidewalk what they were called. "The boots? Sitka slippers." "Excuse me?" "They're XtraTuf Boots, but we call 'em Alaskan Slippers. You need to get yourself some if you want to live here." So, I did.
Xtratuf Boots are also known as Alaskan Sneakers, Alaskan Tennis Shoes, and Alaskan Slippers!
As soon as I put them on, I felt like part of the gang. I rubbed a little dirt on them so they didn't look so shiny. Walking down the street I noticed that no one was looking at my boots. I was not an "outsider" any longer. I was now learning how to dress like an Alaskan, boot-wise, anyway…almost like the crew on the Deadliest Catch!
If you come to Alaska and plan to spend any length of time at all, you want to learn how to dress in a manner that does not make you look like a tourist. We welcome tourists here, but we also know they are from another country and won't be staying long. We treat tourists in a friendly manner, but we don't share our secrets like, where to catch the good fish, and where the best beaches are. If you want to know those things, you have to show me you plan on staying awhile. To do that you need to start with your boots.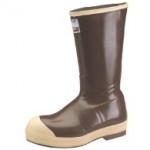 If I see you in XtraTufs, then I know you plan on being here longer than a week. I think maybe you plan to find work or buy some equipment to really see our state. When you wear XtraTufs, you are making a statement that says, "I'm not a tourist any longer."
You also want to get yourself a good sweatshirt and a pair of faded jeans. You can wear an 'Alaskan Beer' sweatshirt, but be sure you have washed it a few times first. And don't wear a hat that says Alaska on it. That says tourist loud and clear.
If you are a lady, feel free to wear a dress with your XtraTufs on a rainy day. No one will stare at you or snicker. We are used to seeing that because we see it as a practical outfit. We are pragmatists up here, so, whatever works, we are for it. We figure maybe you have mud in your driveway and you want to keep your good shoes dry and in your car til' you get to the party. We like practical ladies here. And XtraTufs are very practical…
Learning how to dress like an Alaskan is pretty easy with the right pair of boots!