Xtratuf 16″ Boots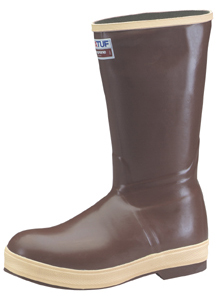 Features of 16" Xtratuf Boots
XtraTuf 16" boots are big enough to protect your feet, ankles, and a good portion of your legs, and because they're made using the XtraTuf patented method, they're going to excel at keeping your feet warm, dry, and comfortable.
100% waterproof
Hand-layered providing flexibility, and a comfort fit
Triple-dipped boot shells for watertight protection
Chevron outer sole and heel
Cushioned insoles with precise arch support
Available Sizes: Men's 3 through 14
Boots Weight: 3.5lbs per pair
Shipping Weight: 4lbs
Manufactured by: Servus XtraTuf® Boots
XtraTuf® boots are designed for the experience outdoor experts. If you need a boots for winter, summer, fall or spring, this boot will give you optimal protect against the elements. The brown color of the boots give you the chance to stay hidden if you are using them as hunting boots. The full traction sole allows you security if you are using the boots in a wet slippery environment.
Most people find themselves in at least one or more of these types of situations during their lifetime, and they also know what it's like to find out that the "shoes" that you purchased which looked great, and were marketed as waterproof are anything but. There's a reason why those other types of footwear aren't able to protect your feet like XtraTuf boots.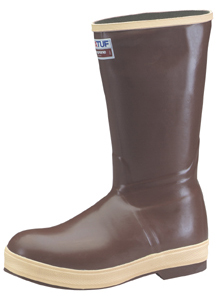 Description of 16" Xtratuf Boots
What makes the XtraTuf 16" boots different from most other boots is the fact that they are not only designed for protection but also for comfort. To begin with, the hand-layered construction of the boots is such that you can easily flex and move when you're wearing them. Unlike some other waterproof boots, who are stiff and unyielding, the XtraTuf boots are very easy to maneuver in which means that they truly become a help and not a hindrance. And they're also designed for comfort. Your foot doesn't rest on a boring and uncomfortable rubber bottom, but actually rests on built-in cushion insoles that also have arch supports, so that your feet won't be aching by the end of the day. The high traction soles give you the support that you need to know that you're not going to be falling if you're in a truly slippery environment.
Seams Make the Difference When you purchase boots that claim that they're waterproof, the first thing that you need to do is look for seams. If you find seams on the boot, no matter if they're high up on the boot or near the bottom, then the boot is likely not completely waterproof. Water is able to transform itself to fit into any type of container and to slip through any space. So even if the seam looks to be sturdy, chances are very good that sooner rather than later you'll wind up going home with soaking wet feet.
The XtraTuf boots are designed to always keep water from your feet because they're made with a seamless construction. The triple-dipped shells are completely seamless, which means that there are no little cracks for water, or any other type of liquid, to slip into. And the neoprene lining is designed to protect you from not only water, but also from a very broad range of different types of liquids, including acids, contaminants, and corrosives. That's what makes these ideal for people who not only want them to play in but also to work in.
People need to be extra tough because their work and their play are usually very tough! How often have you found yourself in one of these situations?
On a fishing trip
Hunting in a swamp
Dealing with sewage issues
Working at a farm
At a slaughterhouse
Dealing with waste disposal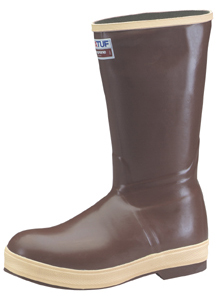 Where to Purchase 16" Xtratuf Boots
Xtratuf boots are available through many fine online retailers.
| Company | Price | Buy Now! |
| --- | --- | --- |
| | $99.23 | |
| | $108.50 | |
| | $108.50 | |
| | $80.54 – $150.97 | |